Some of the links below are affiliate links, so we may receive a commission, at no cost to you, if you make a purchase through a link. Check our privacy policy for more info.
If you want to start a blog that makes money you need to treat it like a business.
With millions and millions of blogs out there, you need to start a blog the right way and stand out from the crowd if you want to start making money from it.
Luckily for you, this guide will show you the step-by-step process on how to start a blog that is profitable in super-quick time.
Before we dive in let's take a look at some of the key benefits of starting a blog:
Big earning potential
Low upfront costs
Beginner-friendly
Builds business skills
You can make a difference to people
Expressing yourself
And so much more
However, the chances are, you want to start a blog because you've heard you can make good money from it.
Let's take a look at some of the most profitable bloggers out there.
As you can see, it's possible to make a significant income from blogging.
Whilst this will not happen overnight, if you follow the step-by-step process in this post you will be well on your way to having a money-making blog in no time.
This ultimate guide for starting a blog will show you everything from choosing the right theme, launching your site with WordPress, web-hosting, monetizing your site, and lots more.
That's enough of an intro, let's get right into it.
Choose A Niche
The first step to getting your blog up and running is to get started with Bluehost. Use my link and get started for just $3.95/month.
Before you start writing any content for your site you need to know what you're going to be writing about. You need to choose your niche.
Your niche could be about absolutely anything. The most common advice out there is to pick something you are passionate about.
Whilst in some instances this can be good advice if you are writing about something that has no profit potential you are wasting your time.
If you want to start making money from your blog fast you need to pick a niche that has profit potential.
So how do you know if a nice has profit potential? Well, this chart provides some answers.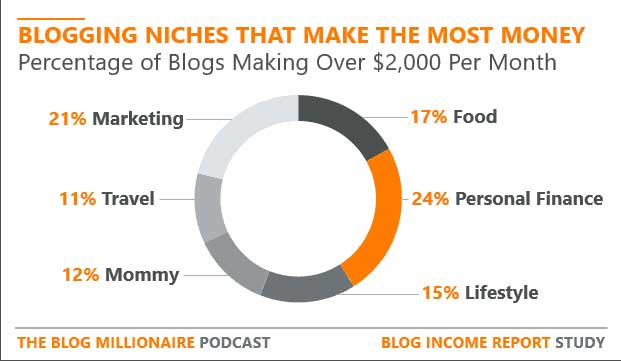 If you pick from one of the areas above you won't go far wrong as they are proven niches that make money. Remember, we are not here to reinvent the wheel. We want to start making money from our blog fast.
Pick Your Domain Name
Next, you have to pick your domain name. You can get your domain name for free when you sign up for a web hosting plan from Bluehost (more on this shortly).
There is no right or wrong way to pick your domain name and don't waste hours trying to think of the perfect name.
You could think of a name that reflects your blog niche. For example, if your blog is about personal finance, you could name it PersonalFinance4You.com.
Another option is to name the blog after your full name which is becoming increasingly popular, (First name)(Surname).com. More difficult to do if you have a common name as the domain is likely already taken.
You can check to see if the domain you want is available via Bluehost (see the image above). For now, just check to see if it's available as the next step will explain a little more about Bluehost.
Get Your Hosting and Domain Name
Every website on the internet needs a web host as they store your site on their server so that we can all access it online. Without web hosting, nobody will be able to see your blog (not good as we want to be making money fast).
The performance of your blog is extremely important so you should choose the best web hosting you possibly can. A good hosting provider will keep your site running 24/7, provide security and WordPress Integration.
At this point, I should make it clear that my recommended web hosting platform for those starting a new blog is Bluehost.
The performance of your blog relies heavily on your provider, so you should choose the best web hosting you can. A good hosting platform keeps your site up and running without interruption, provides security, and integrates with WordPress.
You should choose a host that is reliable and comes at an affordable price. 
At this stage, your best option is a simple shared hosting plan. I recommend Bluehost as the easiest option when learning how to start a blog.
Now let's go through the step-by-step process for purchasing your domain and hosting through Bluehost.
Step 1
Visit bluehost.com and click the CTA 'Get Started' on the homepage.
Step 2
Once you click you will see this page. It includes 4 types of hosting plans. For new blogs, the basic plan is totally fine.
Step 3
Once you click on the plan you wish to use, you will be directed to the page where you will set up your domain name.
If you have already selected a domain name, you type the information in here. However, if you need a new one, with Bluehost you get your domain free for a year.
If want a bit more time to think about your domain you can just skip this step and choose your domain name at a later date.
Step 4
Next you will be asked to enter your account details to create your account.
Make sure all your details are entered correctly. If you scroll down you will see the section where it outlines your Package Selection.
This includes how long your plan will be and how much how much advance you will pay.
The options are for you to pay 12, 24, 36 or 60 months upfront. The longer dated options also give you a better overall price.
If you are confident you will be running your blog for a while (which if you are making money you should be) then a good option to go for would be the Prime 36 Month Price.
If you pay annually you can also get a lower upfront payment instead of monthly.
You will see in the screenshot above there is a section called Package Extras. You can unclick Codeguard Basic and SiteLock Security. There are free WordPress Plugins you can use instead.
Finally, pick your payment option. You can choose to make the payment via credit card or PayPal.
That's it. You will receive an email to confirm your account. Click the link in the email and follow the authorization process and you are done.
Now the web hosting is sorted we will move onto installing WordPress.
However, if you haven't already, click the button below to get started with Bluehost.
Install WordPress And Pick A Theme
After the initial steps, it's now time to choose WordPress as your blogging platform.
Your blog platform, sometimes referred to as your Content Management System is the place where you will write, edit, and publish all of your blog posts.
There are lots of different types of blogging platforms, but if you are serious about making money from your blog you need to choose WordPress.
WordPress allows you to use lots of different free plugins and themes to customize your blog as much as you want.
Luckily, it requires zero coding knowledge.
With Bluehost, they automatically one-click install WordPress for you, all from the main hosting dashboard.
After you have set up your account, you're asked to chose your theme.
There are lot's of different themes to choose from. Have a scroll through and pick one with a layout that you like. It's really easy to change this at a later date if you want to.
After picking your theme all you need to do is launch your blog.
Are you ready to start your blog today? Get started for just $3.95/month by clicking the button below.
Top 4 Tools You Need To Make Money On Your Blog
To start making money on your blog you will need some extra tools. I have trialed lots of different ones and the four I will show you below are the best.
I have obviously mentioned Bluehost lots of times already in the post but it's worth another mention.
Without Bluehost you will not be able to get your blog up-and-running and certainly won't be able to start making money.
The first step in starting a blog is to click here and get set up with Bluehost.
ConvertKit is my number 1 email marketing platform of choice. To help you make money on your blog you need to collect the email addresses of your visitors.
ConvertKit has been built specifically for blog owners and online businesses to help them sell more to their audience.
Get this email marketing platform by clicking here.
To help you collect email addresses you need a great landing page tool. Optimize Press gets our vote.
Optimize Press is more than just a great landing page tool, it's an all-in-one platform for getting more leads and sales on WordPress.
Over 120,000 online experts, marketers, entrepreneurs, and small businesses all use Optimize Press. Click here to get it.
To grow a blog and start making money you will need to use an SEO tool. SEMRush is the best out there.
SEMrush will help you to grow your organic traffic and find keywords that are high in search volume and low in competition.
6M marketing professionals and 45% of Fortune 500 companies use it as their go-to marketing tool. Click here to get it today.
Start Creating Awesome Content
Now your blog is all set up and you have got the 4 important tools you need to start making money, it's time to start creating some awesome content.
This is where you can start to research what types of content are popular in your niche.
Look at some of your competitors' websites or use SEMRush to analyze which posts get lots of views and visitors.
You don't need to re-invent the wheel. Find what is working and improve on it.
When you first start your blog you will want to write 6-8 long-form pieces of cornerstone content built around specific keywords.
By long-form I mean content that is over 2000 words and goes into a lot of detail on the subject of choice. Make sure it's better than the post that's ranking #1 in Google for the keyword you have chosen.
You will have to be consistent with your content. Build a content calendar which outlines how often you are going to post. The more the better but don't sacrifice quality over quantity.
That's it, this guide is finished. Now you have all the basics to start a money-making blog. If you haven't followed the steps yet, get started with Bluehost today.
Last Updated on January 14, 2021 by TheGrowthReactor